A study of the habitable overhanging room of the parisian's houses from 1855 to 1914. It gathers « balcon-serres », oriel and fore-parts. All of them are called » oriel window bay », a typical protruding work.
Evolution: Light structure of cristal, developing up and down, growing more and more massive with stone and finaly covering up the whole frontage in concret:
Cliquez ici Video: Balcon-serre, Oriel et bow-window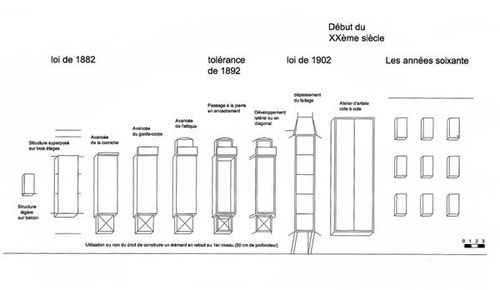 At for step we have found historical structures: « roman lodges », « bretèches », « échaugettes » connected to towers, front doors and theaters. Next we have found around France: « mirador » (spanish oriel window bay), bay-window in Engand, « erker » in Germany and « kiosque moucharabie ».
Cristal bow-windows appears in Paris with the law of 1882 – Light structures in between two balconies – of first use on main floor, third and forth. Great sucess of crystal on the stone frontages in the 80ies, it became a master piece of stone in 90ies. Usefull for botanical gardens, living-rooms and roof tops, it is a sign of light and can be a mucic place. From 1896 to 1902 we found stone on the fifth floor connected to the roof:  little suspended towers next to lodges. In Paris the law says it is permited to build over the street just for 1/3 of the frontage(…..)   »Oriel window bays » appears in Europe in the XVII century with the technic of large glass panels. In the same time « kiosques moucharabie » appears in the Mediterranean Basin and India.
Hawa Mahal, end of the XVIII century
Kiedrich_Michaelskapelle_Chörlein
The Sehemy house is located on mu'iz le din allah street in fatimid, Cairo. Build in 1648 by abdel wahab el tablawy in 1648 a.d. the house was purchaes in 1796 by sheikh ahmed as-suhaymi. The house is a cairene house from ottoman period with strictly separated public (salamlik) and private spaces (haramlik).